Learn Quran for Kids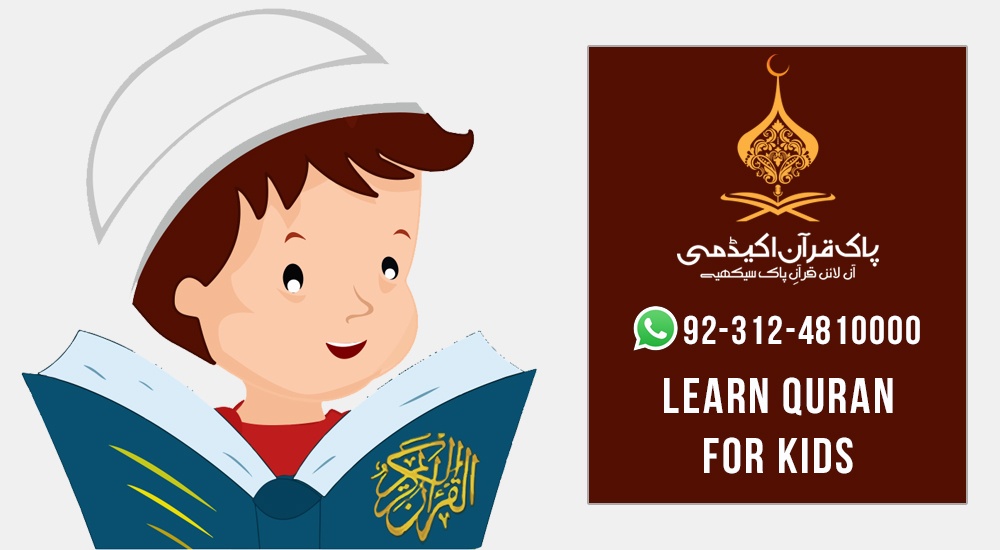 Learn Quran for Kids in Western Countries
Learn Quran For Kids To Keep Them Close To Islam
Up to the age of 7, the minds of children are completely blank and are in the stage to absorb things. During this stage of life, kids are learning different things and ideas but are unable to understand logical reasoning and conceptual ideas. It is a fact that the child's mind up to the age of 7 and 8 years is not strong enough to grasp book knowledge. They, therefore, should study the basics of the Quran instead of studying Tafseer or other courses. After 8 years and up to 14-15 years, a child is able to grasp logical reasoning and conceptual theories. He is more interested in acquiring knowledge when he is at this age. His mind is fresher and has the ability to learn more and more.
The child in this age feels the curiosity to learn about unknown things. His mind becomes strong and is about to enter youth and is able to understand his responsibilities. So, he can learn advanced courses of the Quran and understand the rules and commands of Allah. Parents and teachers should teach according to the level of mind of children. Training the children is the responsibility of every parent. The training should be in the right way and must consist of teaching and guiding. It is not enough for parents to provide them with all the facilities of life but parents should give them an awareness and knowledge of their religion so that they can gain good characteristics and become practicing Muslims. It takes some hard work to become a virtuous personality.
The guidance is vital for the progress of the child. All parents should think about it. Learning the Quran is very important for all Muslim children. Kids may not appreciate this kind of learning but it is the duty of parents to develop love in the hearts of their children. The teachings of the Holy Book are very important for kids to help them know how to live in this world. It is necessary that elders should guide their younger ones towards what is right. Guidance is possible via teaching. Parents should arrange a proper teaching facility for their children. They must arrange a teacher to teach the Holy Quran and Islamic beliefs, moral and social values to kids. It is necessary that kids learn all these things in their younger age so that they will be good Muslims when they will grow up.
Different teaching facilities to learn Quran for kids are available. Parents can take such service by either sending their kids to Madrasah and other places of religious learning. Involving in the religious community also helps children get the awareness of the Quran and Islam. There are different courses of Islamic studies and the Quran but parents and teachers should consider the age and ability of their children.
Learning For Kids
Every Muslim parent has a serious duty to give knowledge of the Quran to their children. The teachings of the Holy Book are the most basic teachings your kids need. There are hundreds of Quran tutors who are available for teaching children. Teaching the Quran to your children is necessary. There are different ways parents can teach the Book of Allah to their children but we will talk about the modern ways of learning. If the children learn through the internet, they can get many benefits like
Get a chance to learn from the best teachers who know how to teach the Quran to children
The computer is easy to use and young children can also learn the Quran without any problem. If they don't know, parents can guide them
The safety of children is very important. Parents feel satisfied because their kids learn at their own home and they can keep an eye on them to see how they are learning. Parents can also watch the progress of their children.
Some online tutors take tests at the end of each lesson and also assign the students some homework so that they can learn in a much better way.
The Best Method For Children
The internet offers the best method of learning in the form of live classes. There are some courses that kids can study for example
Qaida
Learning is not possible without basic and beginner lessons. The first step towards learning the Quran for children is to learn online Noorani Qaida. First of all, children should learn how to pronounce the words properly. They, therefore, need a Qaida course in which they will study the basic building blocks on Quranic words.
Tajweed
Students can have better learning if they move step by step. After learning Qaida, when students will complete joining and forming words, it's time to learn Tajweed. Children should learn how to recite words and verses with perfect pronunciation. With the help of an expert teacher, children can understand how to use tongue and mouth in some special ways to make the sounds and bring beauty in recitation. Qualified Qaris have the teaching capabilities so they make it easy for kids to understand the rules of Tajweed.
Hifz
If you wish that your child should become a Hafiz, you can choose an online memorization course. Before parents choose this course, they must determine whether their child can do this or not. There are a lot of benefits of memorizing the Quran and if you see our child is interested in memorizing, you should arrange a teacher for him. There are many reliable Hafiz e Quran teachers available online. So choose one carefully.
Arabic
Some parents want their children to learn Arabic so that they can understand the Quran and Hadith easily. Arabic language course is an important course but you need a qualified tutor for understanding the meaning of the Quran. These days, learning Arabic online has become quite popular. More and more students are enrolling in this course.
These are some of the important courses that kids can study. It is really difficult to find good teachers. In some parts of the world, it is actually very difficult to reach out to the best teachers. Fortunately, the internet has made it quite easy for children to learn from the best tutors in the world. Many institutes provide Quran learning courses online to the students. They offer these courses through online classes. Children from any part of the world can take a class with them. Online classes are just like private tuitions but the students can take classes as per their preference.
Tips For Teaching Children
The Quran is a blessed Book and besides listening and reading children memorize it too. There is no need for children to overwhelm with too many details. Learning should be according to their age. The teacher's duty is to capture the attention and interest of students because they are young in age and need full attention. Teacher's style of delivering should be appropriate to the age of students.
There are a lot of things that teachers can do to develop an interest in children. There are also many stories in this Holy Book. The teachers can share those beautiful stories of the Qur'an with the children. Children always have an interest in listening to stories so their lessons of Islamic studies should be in the form of stories.
Children can get inspiration from those stories because each story comes with a lesson. If a teacher is using video tutoring, he/she should offer children to watch Islamic cartoon videos so that students can visualize the lessons. This will increase their interest and will have a better understanding.
Teachers should take the task of teaching easy and must encourage children. Kids always need to be encouraged and motivated. It is not a good thing to force them to do too much at once. This may result in the loss of interest in their lessons. Don't put too much pressure on them. The most important thing is to grab the attention of kids. There are many kids who don't want to study hence they very soon start losing interest. The responsibility of teachers is very serious. Kids handling is not easy. Many parents don't want to send their kids to madrassa because there is a culture of punishments there. Parents want loving teachers and want to avoid punishments. The atmosphere of madrassas is strict and this type of environment causes resentment towards the Quran. If teachers punish children, it may scare them.
The purpose of teaching the Book of Allah is to make children love the Quran. The more they will love the Holy Book, the more they will be connected to Allah. It is the duty of parents as well as teachers to encourage kids when they are learning the Quran. They must tell kids that they are proud of them when they give a good response. If they do not learn their lesson, teachers must not give them a bad response. Children feel down if teachers humiliate them. In online classes, teachers are qualified and well mannered. So they do not behave negatively. This is a concern of madrassa teaching where Qaris are not well-mannered and they humiliate students in front of the whole class.
The Right Age Of Children To Start Learning Quran
Usually, children start learning at the age of 3. At this age, kids can memorize many things so if we teach them the Quran, they can learn it.  4 to 6 years is a good age for a child to start learning the Quran but there is no hard and fast rule for age. Every child is different so there is no definite age to learn.
It totally depends on the abilities and interests of the kids. Some of the children learn so fast that they complete the course easily but some of them can take more time. Both teachers and parents must understand this fact that every child has its own pace of learning. It is not right to compare one child with others. Parents and teachers must always appreciate children and let them learn at their own pace. The learning process should be made simple and interesting for them. Many parents wish that their child should become Hafiz e Quran. If you are also interested in the memorization course for your child, please do this for the sake of Allah only. Do not want this as a status symbol of a Hafiz.
Connecting With Religion
Giving a child Quran and Islamic education is as or more important as providing formal education. This is the only way you can help them to grow to be good Muslims. You should provide them the easily available courses so that they can spend their lives with Islam from a young age. The right teacher teaching the right course can educate a child with the right knowledge of the religion. Many parents say that they can teach their children themselves but they should know that parents or grandparents may not have 100% accurate information so there is a chance that children will lead their lives with inaccurate beliefs and knowledge. This is something wrong so there should be a teacher who has in-depth knowledge of Islam and Quran enables children to learn about their Holy Book and the teachings of Allah and Prophet Muhammad (PBUH).
When it comes to online learning, there is a need for properly trained teachers. It is necessary to hire teachers from reliable resources.
Children in Western countries attend non-Islamic or secular schools. They, therefore, do not have any contact with Islam through their formal education. In order to make the Quran a part of their lives, taking Quran classes after school is very important. If they will take Quran Classes Online regularly, it will keep the religion close to their hearts. Islamic studies and the Book of Allah are the only sources to keep Islam in their minds. There are weekdays and weekend classes. Parents can choose the kind of classes that will be suitable for their kids.